Certified Service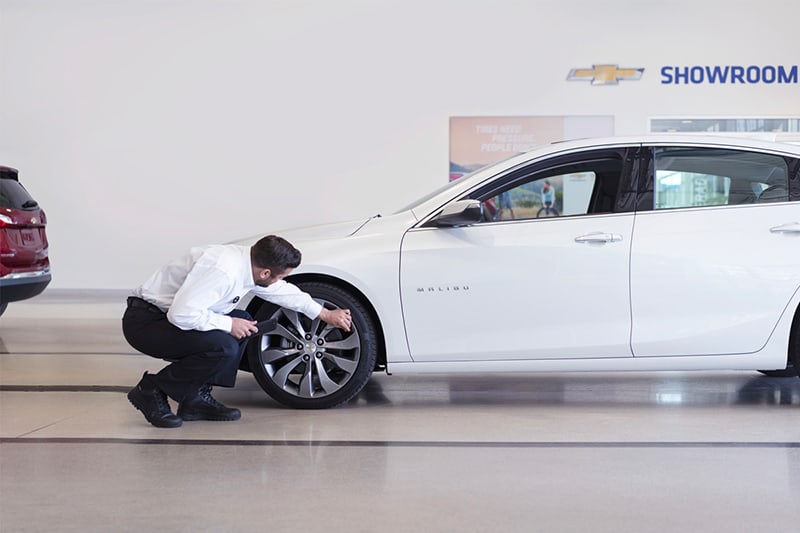 Chevrolet Service Center in Akron/Canton
Is your new or used vehicle in need of service? Whether you require a simple oil change or major work in a Chevy body shop, you can turn to Serra Chevrolet Akron. Our Serra Chevrolet service team is here to ensure that your commute from Barberton to Massillon remains smooth and hazard-free. As your local Chevrolet service center, we offer competitive prices on popular vehicle services such as oil changes, brakes, and tires. Our mission is to service your Chevy in a fair, affordable, and transparent manner. Read on below to learn more about working with our Chevrolet service center.
Maintenance
Need New Tires?
No matter what car you drive, your vehicle's tires are the first and only contact with the North Canton streets, so it is important to choose the right set when replacing them. Our Serra Chevrolet service experts will handle all of your tire needs. From checking tire wear to tire pressure our team can help you find new tires for your vehicle. Our team is here to keep your tires in optimal shape. If you need to visit us to service your Chevy, browse our rotating service specials for additional savings!
Find Tires
Need An Oil Change Near Akron?
Just like your tires, your vehicle's oil is a critical component that needs routine care. Oil is the lifeblood of your engine that keeps everything running smoothly on the Akron streets. Without healthy oil, your engine may overheat due to friction. Due to the importance of clean oil, it's wise to keep an eye on the health of the oil in your Chevy.
However, you can put your mind at ease, knowing that your Oil Life Monitoring System will let you know when it's time for an oil change at our Chevrolet service center. Our service experts can recommend the proper oil grade and oil change interval for your make and model. If you need fresh oil, schedule an appointment with our Serra Chevrolet service team today. Our Chevy body shop and maintenance center is equipped with the tools to handle all of your automotive needs.
Learn More
Multi-Point Vehicle Inspection
With your Multi-Point Vehicle Inspection, you get a thorough assessment of your vehicle by the Certified Service experts. So protect yourself and your automotive investment with a comprehensive vehicle inspection at your Serra Chevrolet Akron Dealer today.
The Multi-Point Vehicle Inspection form uses a simple color-coded key to assess maintenance terms:
Red indicates items that need immediate attention.
Yellow indicates items that should be addressed in the near future.
Green indicates no items to address.
Hearing Brake Noise?
Stopping power is crucial to a safe and successful driving experience. Without healthy brakes, you may find yourself in the Chevy body shop due to a fender bender. Braking power is essential for safety behind the wheel. When you need brake service, visit Serra Chevrolet Akron, and our GM Certified Service experts will repair the issue or recommend quality new brakes.
Learn More
Battery Trouble?
There's nothing worse than heading out to start your car, only to find that you have a dead battery. Your vehicle's battery provides energy to start the engine, plus it supplies power to accessories when the engine is not running. The cold of winter and the heat of summer can affect your auto battery. Our team can quickly service your Chevy when your battery needs replacing. As always, if you require further guidance or care, you can contact our team for assistance!
Learn More
Contact Service
3281 S Arlington Rd, Akron, OH 44312